Every day of the season Winterhighland reaches thousands of individuals, the life blood of the nation's Snow and Mountain sports industry. During Summer 2012 Winterhighland moved onto a new state of the art dynamically scalable cloud hosting platform with United Hosting.

This change allows for new opportunities on Winterhighland as it allows for scaling server resources to match the fluctuating demands the Scottish weather places upon Winterhighland. Including new more responsive promotional possibilities that mean Winterhighland can work for your business.
Contact for further info and to discuss advertising and sponsorship opportunities.
Winterhighland will be utlising the four standard IAB universial ad package (UAP) units doruing the 2012/13 season:
Medium Rectangle (300px by 250px).
Leaderboard (720px by 90px)
Skyscraper (160px by 600px).
Rectangle (180px by 150px) // Webcam Page Buttons for only £50.

Advertising Guarantee:
Winterhighland divides it's advertising inventory into a number of rotations calculated to exceed the purchased impressions on a rolling average basis over 3 seasons. Seasonal adverts will not have their impressions capped, but will continue to be rotated for the duration of the season (or agreed campaign run).


Medium Rectangle & Leaderboard banners available as run of site or targeted to specific pages or geographic areas.
Skyscraper & Leaderboard banners available on monthly and Seasonal buyouts.
See our Media Kit and Rate Card [Print Friendly] for further info.
Sponsorship opportunities exist across Winterhighland for the upcoming winter season ranging from a week long exclusive buyout of front page ad space, through seasonal sponsorship of major sections and our webcams provide an excellent promotional opportunity, see below. We can be flexible, got an idea please talk to us about it.
Sections available for standalone sponsorship tailored to your specific requirements - just ask.
Winterhighland's high impact advertising package across the site throughout the 2012/13 season includes:
2 weeks exclusive front page Medium Rectangle advert, dates of your choice subject to availability.
150,000 Medium Rectangle Impressions

- or -

100,000 Medium Rectangle Impressions plus, 100,000 Sky Scraper or Leaderboard Impressions.
Medium Rectangle and Leaderboard advert units maybe run of site, geographically (by snowsport areas) or content targeted.
ALL this for £800(saving of over £600 on individual rate card price).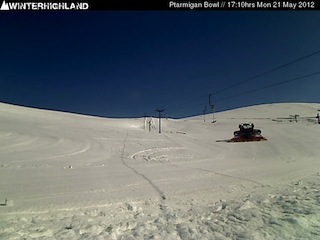 A unique sponsorship opportunity - each season Winterhighland's own webcams at CairnGorm, Aviemore and Glencoe are viewed millions of times!
Winterhighland continues to invest in and expand our webcam network, providing a unique partnership opportunity, supporting the creation of a unique national network of high quality high mountain web cams and integrated automatic weather stations providing unique real time online mountain experience.
Of interest not just to skiers, boarders, climbers, winter walkers, ski tourers but also to meteorological enthusiasts, and even just those who love mountains, great views and the Highlands of Scotland. The potential reach is far beyond the winter mountain sports market, thus the potential rewards for the sponsor is equally huge in scope.
Winterhighland is uniquely placed to call on the IT, web design, radio engineering, meteorological and mountaineering skills required to bring such challenging projects to fruition in the Scottish Mountains. This summer we've been upgrading the networking at Glencoe and this autumn will be putting in new networking using Three's HSDPA network on CairnGorm Mountain to ensure an even more robust webcam service this winter.
Target specific sectors of the Scottish Mountain Sports market with sponsorship of the UK Ice Conditions Server, Touring and Backcountry Reports, Mountain Bike Trip Reports and also the Public Snow Reports. Sponsorship opportunities start at £1000.
If you currently provide a blog on mountain conditions for winter climbing, back country snowsports or lift served snowsports on your own website - Winterhighland can integrate your service with our dedicated report servers. Getting your reports to more potential customers and helping create a comprehensive record of winter conditions.
Unless otherwise agreed the following applies to all adverts placed on Winterhighland:
Banner Advert rotations sold on a seasonal buy-out run from 1st December till 31st May of the following year , though earlier start dates may be agreed on prompt payment of advertising fees, subject to availability of advertising space.

Payment must be made in full prior to any advertising campaign going live on Winterhighland.

Snow Reports include our General Situation overview alongside the Official Resort Reports. Winterhighland can not be held responsible for the unavailability of Official Reports due to issues outwith our direct control. Winterhighland is able to directly update report pages on a daily basis locally on our server, should official reports be unavailable for any reason.

Advertising artwork should comply with IAB standards for the Universal Ad Package units. Flash or other rich media adverts which degrade user experience by excessive CPU usage or cause users to experience browser or system instability are not acceptable.

Full terms and conditions for Advertising on Winterhighland available on Request.