Posted by:
alan
at 23.49hrs on Mon 30th Apr 12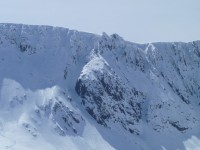 • View Photos •
:: Route(s)
General photos of the Northern Corries.
:: Route Grade
Not Applicable
:: Weather Conditions
Bluebird, light winds, moderate at times on the tops.
:: Climbing Conditions
A selection of photos showing the Northern Corries of CairnGorm.
:: E-Mail Contact
amackay at winterhighland dot info