the UK ice conditions server 2019
Posted by:
Da kishman
at 19.29hrs on Thu 17th May 12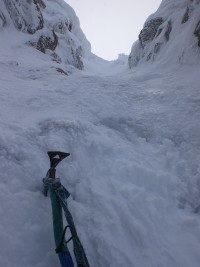 • View Photos •
:: Route(s)
'Hidden Chimney' & 'Goat Track Gully' Sneachda
'Y Gully Right Branch' & 'Ventilator' Lochain
:: Route Grade
Not Applicable
:: Weather Conditions
Squally snow & graupel showers from N/NW, improving thru day
:: Climbing Conditions
'Hidden..' - wade up 'Slant', chimney pitch xellent
GT Gully - short,sweet ice pitch!
'Ventilator' - wrong 'turn' taken up short groove;downclimbed & finished up perfect neve in 'The Vent'
Y Gully - pick of the day! Sweet, sweet neve & perfect steep finish with no cornice!
:: Climbers
Da Kishman
:: E-Mail Contact
fishykish at aol dot com