you report it! // public reports
Posted by:
h11lly
at 21.56hrs on Sat 26th May 12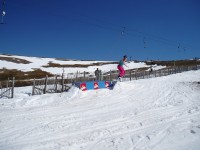 • View Photos •
:: Snow Cover
Broken & Patchy. Very Limited Terrain.
:: Surface Conditions (out of 5)
3
:: Weather Conditions
Hot ! Continuous sun, warm breeze
:: Snow Conditions & Info
What a day to end the season, a season that turned itself round form being one of the worst to being one of the best due to the fantastic skiing in April and May.

Just the upper Fairway and the shred today but even that wouldn't have been possible without the ingenious tow track patching using wooden pallets for a base and covering them with snow.

As the day went on the power of the sun won but not until 3.30pm after much fun was had by all on quite fast snow with water channels to surf through.

I'd a morning wander over to Ciste Mhearad and the slope beneath tor which were good where there was a gradient, but the best run was down the shoulder of Coronation Wall from just below the summit, so much so that a repeat visit was made to finish off a great day.

Big big thanks to all the effort put in by Cairngorm to keep the lifts turning till there was virtually nothing left.




:: Riders
Helen
:: E-Mail Contact
h11lly at hotmail dot com