you report it! // public reports
Posted by:
sspeirs
at 17.29hrs on Thu 23rd Mar 17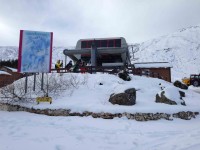 • View Photos •
:: Snow Cover
Mostly Skiable - Some Areas Thin/Narrow
:: Surface Conditions (out of 5)
3
:: Weather Conditions
Minus 3 deg C in car park at 9am, +3 deg C at 4: 30pm
Sun with clouds in the morning, light a bit more flat in the afternoon. Low cloud over the upper runs for most of the day - got a big better around 2: 30pm. Skiing upper runs a bit more challenging as a result.
:: Snow Conditions & Info
Nice snow all over to start with - packed powder, the squeaky kind I personally really liked. Lower slopes firmed up a bit, became more hardpacked as the day passed. Upper slopes good snow.
Good cover in main basin. Happy Valley, while open, involved a climb of a rocky and icy narrows section for 10-20m which was tricky to say the least so I did't go back down Happy Valley! The lower section of Happy Valley was good and way better than 2 weeks back when rocks were showing.
Surprisingly good and wide cover on Low Road and Rankin's return (good decision on that new run!); and plateau also was skiable the whole way down and had good width also.
For me, the run of the day was the Wall. Good snow, visibility better. I didn't go down Spring run given visibility.
Old Mugs Alley was in good shape but the top of the plateau area was a bit messy later in the day and care had to be taken to avoid some rocks, dirt etc
Coire Pollach tow area pretty thin on snow, I didn't this this would survive but I see today the hard workers at GCM were shovelling snow on to that today
Skiing to the base station looked feasible in the morning - albeit narrow in places - but was combat skiing in the afternoon.

More photos at https: //flic.kr/s/aHskSTsoVY
:: Riders
Stephen S
Report Edited Once. Last edited by sspeirs: 2017-03-23 18:48:40