you report it! // public reports
Posted by:
Geoff89
at 20.47hrs on Mon 8th Jan 18
:: Snow Cover
Most Terrain has Good Cover.
:: Surface Conditions (out of 5)
4
:: Weather Conditions
Dry and Sunny (but always behind hill). Very cold (FL: England)
:: Snow Conditions & Info
Front face little cover, Upper runs still a bit rocky but mid mountain and plateau area superb. Wall, lower Etive Glades and the powder between the plateau runs best. Did not get over to Spring Run because of strong winds but both Happy Valley and Main Basin good. Strongly recommend.
:: Riders
Geoff Riddington
:: E-Mail Contact
riddington88 at hotmail dot com
Posted by:
Skicadets
at 20.46hrs on Mon 8th Jan 18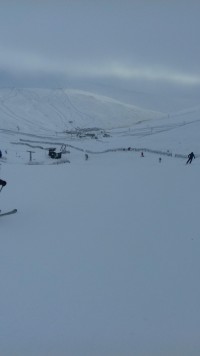 • View Photos •
:: Snow Cover
Mostly Skiable - Some Areas Thin/Narrow
:: Surface Conditions (out of 5)
4
:: Weather Conditions
Low cloud on tops with a little sun and a strong and cold wind
:: Snow Conditions & Info
Good to get up C?rn Aosda first thing as it closed pretty quickly when the wind picked up. Wind held up progress on butcharts runs, but was from behind on Cairnwell traverse. Only sunnyside poma on the go over the other side. Reasonable sliding throughout. Low level flypast from the RAF below the tops was a sight! Too fast for pix
:: Riders
Skicadets
:: E-Mail Contact
irdabloomers at gmail dot com