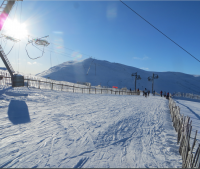 • View Photos •
:: Snow Cover
Excellent Cover
:: Surface Conditions (out of 5)
5
:: Weather Conditions
Sunny. Freezing at all levels. -3C in car park at 3pm. -6C on The Cairnwell.
NW'ly F6-7 on The Cairnwell. Spindrift. Sheltered in Butchart Corrie.
:: Snow Conditions & Info
Excellent machined packed pistes. Early - light drifting over corduroy - wonderful! Off piste snow is still powdery and thin in places so hazards lurk.
Busy today but queues were few except around the Cairnwell Cafe. Pity we couldn't get onto Meall Odhar.
:: Riders
P&A
:: E-Mail Contact
PWoolv47 at yahoo dot com
Posted by:
stuart
at 17.49hrs on Fri 9th Feb 18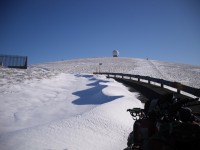 • View Photos •
:: Snow Cover
Limited Terrain Complete/Open.
:: Surface Conditions (out of 5)
2
:: Weather Conditions
Slight NW breeze, clear overhead at first withcloud cover increasing early afternoon. -2C at village level.
:: Snow Conditions & Info
A fresh dusting of overnight snow. Plenty of snow at both sides of main slope. Tow track complete over its full length.
:: Riders
Myself and 2 others.
:: E-Mail Contact
stuart at smcwilliam dot co dot uk