Posted by:
Skicadets
at 16.06hrs on Sat 10th Mar 18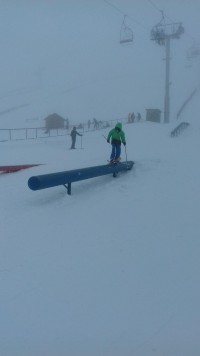 • View Photos •
:: Snow Cover
Excellent Cover
:: Surface Conditions (out of 5)
5
:: Weather Conditions
Flat light, poor visibility and snow most of the day, some times a bit wet. Moderate ESE winds. You didn't miss much weather wise!

:: Snow Conditions & Info
Great surface and cover especially on the Buzzard and Eagle2. Outwith the fences the cover is good with some scoured areas and deep powder stashes to add to the already great skiing. Fences in a number of locations are buried. The road getting back was a bit of a challenge with the drifting snow even with snow tires! Forecast looks great for tomorrow so get out there now. Even though you missed out snow wise you didn't with the weather
:: Riders
skicadets
:: E-Mail Contact
irdabloomers at gmail dot com