you report it! // public reports
:: Snow Cover
Excellent Cover
:: Surface Conditions (out of 5)
4
:: Weather Conditions
Disappointing after early brightness. Low cloud lifted to leave a stubborn raft of cloud sitting on the tops. Little or no wind. 2C early rising to 7C in the afternoon at car park.
:: Snow Conditions & Info
Extensive cover except at the lowest level where thaw in progress. Crunchy snow softened as the day progressed allowing smooth turns for tired legs. Flat light tricky at the top. Great snow in Happy Valley. Red home run required some side slipping at steepest part. A stretch of the blue home run a muddy track near the foot.
:: Riders
P,A and T
:: E-Mail Contact
pwoolv47 at yahoo dot com
Posted by:
jonners
at 13.32hrs on Mon 12th Mar 18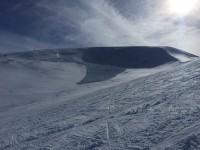 • View Photos •
:: Snow Cover
Excellent Cover
:: Surface Conditions (out of 5)
4
:: Weather Conditions
Initially misty, then sun came out and it was roasting hot. No wind.
:: Snow Conditions & Info
Excellent cover all over. Conditions were firm early on but soon softened as the sun came out and temperatures increased. Everything was open except the red and black runs next to the GM poma due to avalanche risk. Car parks were full but hardly any queues except for the GM poma.
:: E-Mail Contact
johnstonekeith at icloud dot com
Posted by:
Doug_Bryce
at 12.27hrs on Mon 12th Mar 18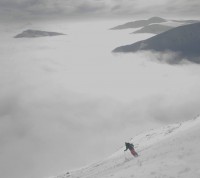 • View Photos •
:: Snow Cover
Excellent Cover
:: Surface Conditions (out of 5)
4
:: Weather Conditions
perfect inversion
:: Snow Conditions & Info
ski anywhere
:: Riders
doug, hamish, simon
:: E-Mail Contact
Doug_Bryce at hotmail dot co dot uk