you report it! // public reports
Posted by:
Skicadets
at 18.08hrs on Sun 3rd Feb 19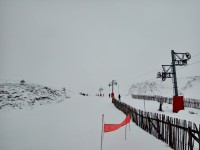 • View Photos •
:: Snow Cover
Limited Terrain Complete/Open.
:: Surface Conditions (out of 5)
3
:: Weather Conditions
snowing and flat light in the morning but cleared up in the afternoon
:: Snow Conditions & Info
Claybokie: lower 2/3rd good man made snow, top part agricultural and icy, outer run also skiable

Dink Dink: good manufactured snow

Plastic Slope: good snow but rocky in places, a few "off piste" lines available

Butcharts Access: open 1/2 way up, was grassy and thin. If you were willing to traverse/ hike there were a few fresh areas to be explored on Carn Aosda and Butcharts Coire.


:: Riders
skicadets