The 2013 Winterhighland Calendar
Sorry, both our Wall and Desk Calendars have now sold out. Please take a camera with you in the mountain, and you may get a photo in the 2014 Winterhighland Calendar.
Winterhighland is delighted to offer our 2013 Scottish Snow & Mountains Calendars. Featuring 12 fantastic photos capturing snowy mountain scenes and mountain sports action in the Scottish mountains and available in two Limited Edition formats. A glossy A3 Wall Calendar and free standing Desk Calendar - ideal for the office at work.
The 12 monthly photos feature the 8 winning photos from the Winterhighland 2013 Calendar Photo Competition, plus 4 editors picks from recent seasons.
You can pay by credit or debit card via Google Wallet or Paypal, or by direct bank transfer to Winterhighland using either BACS or the Faster Payments Service. Please place your order now, once the Calendars go to print at the start of December the number will be fixed. Calendars will be dispatched during the second week of December.
Despite the hefty postal price rises during the year, Winterhighland is delighted to be able to offer our 2013 Calendar at the same price as last year's postal inclusive price for customers within the EU.
Wall Calendar
Sorry our Wall Calendar has sold out.
The Winterhighland Wall Calendar gives you a lovely snowy mountain to look at every month of 2013 and is printed on center bound glossy A4 calendar paper giving large landscape pictures, the calendar opens out to A3 size for hanging.
Our Wall Calendar is wire bound and includes postage within the EU (Please ask about posting Wall Calendars beyond the EU). White presentation envlopes are available for an extra £1 per calendar, these provide extra protection for the calendars in the post and make them ideal Christmas gifts.
Price £12.
(It's only £10 for Winterhighland Subscribers )

Add a white card presentation envelope for £1.

Desktop Calendar
Sorry our Desk Calendar has sold out.
Not got a wall to hang your calendar on at work? Worry not, you can install enjoy a snowy mountain every day at your desk to with our free standing Winterhighland 2013 DeskCalendar. With flip pages for each month printed on glossy card, the calendar measures 21cm wide by 9.5cm high. The price includes postage within the EU .
Sample Layout from previous Calendar, see above for the 2013 Photo selection.
Price £8.
(It's only £6 for Winterhighland Subscribers )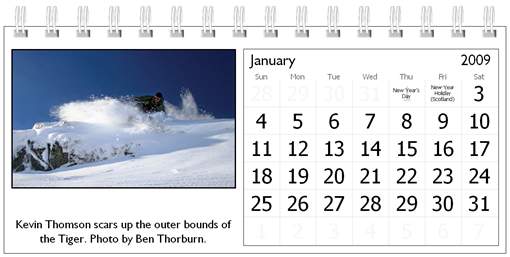 Christmas Cards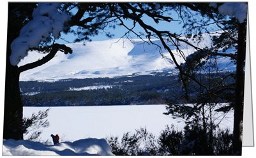 Properly snowy and home grown glossy Christmas Cards! CairnGorm viewed through the trees from the shore of Loch Morlich in Winter. Cards come in packs of 4 and are complete with plain white envelopes, inside the message is 'Seasons Greetings'.
Card size: 178mm by 128mm.
Price £5.
(It's only £4 for Winterhighland Subscribers )