touring & backcountry

Posted by:
h11lly
at 22.02hrs on Sat 2nd Jun 12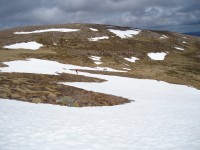 • View Photos •
:: Tour Route(s) or Location Skied/Ridden
Walked up to ski Ciste Mhearad then over to the snowfield beneath the Cairngorm summit tor. Went up to the summit then over to the remaining snow on the shoulder of Coronation Wall. Skied the unbroken section and two lower patches then walked down to the traverse.
:: Weather Conditions
Sunny spells, Light breeze. Quite chilly in the car park but was warm once we started walking up.
:: Snow Conditions and Distrubtion
The snow was soft but lovely to ski. It still felt like the snow that fell from the first week of April onwards. There was no hard granular spring stuff.

Best and longest run was the patch below the tor. Lovely texture and a steepish pitch in the middle. I would say the run was at least as long as it was on 1st April but perhaps not so deep at the foot.

As it's the Diamond Jubilee weekend I thought I'd give the remainder of Coronation Wall a final go. Probably not the best idea as the snow here was very heavy and slumped on every turn sending big snowballs down the slope.

A fun day though.
:: Skiers/Riders
Helen and Alan
:: E-Mail Contact
h11lly at hotmail dot com