touring & backcountry

Posted by:
h11lly
at 22.02hrs on Thu 14th Jun 12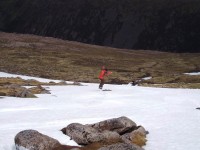 • View Photos •
:: Tour Route(s) or Location Skied/Ridden
Walked up to the summit by windy ridge then over to the patch to the NE ot the tor then over to Ciste Mhearad
:: Weather Conditions
Not much wind, clear, not very warm
:: Snow Conditions and Distrubtion
There is considerably more snow on the patch below the tor than there was last year at this time and it is now granular and spring like.

A couple of boarders arrived at the same time so we all enjoyed the run. The lower tongue is no longer linked but there's still a good pitched length - 30 turns on the last two runs !

Ciste Mhearad is more extensive too especially to the north but there's less on the south side than at this time last year. In the double photo you can pick out the same rocks in the foreground although the angles are different.

For those wanting to get some misummer turns - the tor patch is the best !
:: Skiers/Riders
Helen
:: E-Mail Contact
h11lly at hotmail dot com