touring & backcountry

Posted by:
h11lly
at 21.01hrs on Tue 26th Jun 12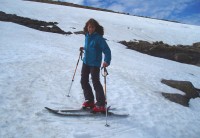 • View Photos •
:: Tour Route(s) or Location Skied/Ridden
Up Windy Ridge to the summit then over to the patch to the NE of the tor then to Ciste Mhearad.
:: Weather Conditions
Overcast but clear. Breezy and quite mild. Heavens opened with torrential rain just as about to cross the upper bridge above the daylodge on the way back
:: Snow Conditions and Distrubtion
The snow was soft granular spring snow.

The patch below the tor and Ciste Mhearad are still larger than they were this time last year. 20 turns on the tor patch and it still has a good steep pitch in the middle.

The patch on Coire Cas headwall is tiny now and it looks like the patch on Coronation wall could outlast it. Last year the headwall patch was much larger and there wasn't any on Coronation Wall at this time....and who says snow patches are boring !

:: Skiers/Riders
Helen
:: E-Mail Contact
h11lly at hotmail dot com