touring & backcountry
Posted by:
Apex177
at 20.25hrs on Sun 26th Feb 17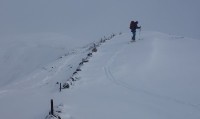 • View Photos •
:: Tour Route(s) or Location Skied/Ridden
Cairn of Claise and Carn an Tuirc from A93 north of Glenshee.
:: Weather Conditions
Storm Doris gave the snow on Thursday before the rains took it away on Friday night so Friday was the day to be out. We even saw some sun in the morning.
:: Snow Conditions and Distrubtion
Southern slopes had the redeposited snow mostly without a base as such with an occasional icy under layer.
:: Skiers/Riders
Eagle Ski Club Party