touring & backcountry
Posted by:
Apex177
at 21.28hrs on Fri 23rd Feb 18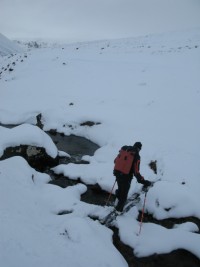 • View Photos •
:: Tour Route(s) or Location Skied/Ridden
Creag Leacach, Glenshee
This was an excellent short (less than 4 hours) tour. We were away from the road by 10 however it became clear that someone had already been round this tour before we started! The descent is a lovely slope (around 24 degrees) and we could imagine coming back often if we were local. Definitely worth a return trip.

:: Weather Conditions
Vis deteriorated as per forecast.
:: Snow Conditions and Distrubtion
Skiable from the road
:: Skiers/Riders
Eagle Ski Club Party