touring & backcountry
Posted by:
Apex177
at 21.31hrs on Mon 19th Mar 18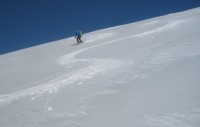 • View Photos •
:: Tour Route(s) or Location Skied/Ridden
Mount Keen from Glen Mark. It seemed reasonable to go looking for the snow from The Beast from the East on the most easterly Munro. There is a superbly positioned and atmospheric guest house at the start of the route see houseofmark.co.uk. Predictably the east facing hill track west of the Ladder Burn was a better ascent than it would have been a descent. By 600m we were on hard neve that is widespread just now. We looked for better snow to ski down on the west side of Mount Keen however it was just the same with a free foot massage. We took an easy line to the south of Braid Cairn across open desolate terrain over the 664m hill and quickly over another kilometre still on neve before coming down the snow laden west facing slope into Glas Coire with good skiing to the track near House of Mark. 6 hours 17Km 700m
:: Weather Conditions
Minus 7 overnight, 25mph wind and bright sunshine
:: Snow Conditions and Distrubtion
The road is completely clear. Best skiing to be had below 600m.
:: Skiers/Riders
Eagle Ski Club Party
Posted by:
SussexSnow
at 14.53hrs on Mon 19th Mar 18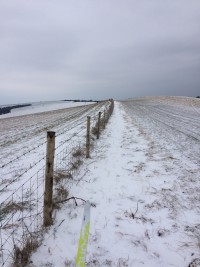 • View Photos •
:: Tour Route(s) or Location Skied/Ridden
South Downs: Ditchling Beacon to Jack windmill. From car park along South Downs Way and down lane to Jack. Back via north side of fence in field, under repair, to rejoin at top of that hill. Some 'downhill' in a drift south of the dew pond but it got too steep for XC skis
:: Weather Conditions
0c or below all day with a ferociously cold wind from the East
:: Snow Conditions and Distrubtion
Light covering over all the Downs with drifring along hedges, fences, furrows, gorse bushes. Frozen overnight. slight crust on drifts
:: Skiers/Riders
SussexSnow
:: E-Mail Contact
nickmacjones at gmail dot com