Posted by:
alan
at 23.09hrs on Wed 20th Feb 13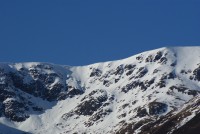 • View Photos •
:: Route(s)
None. Walked the length of the layby on the A82 by Loch Lochy!
:: Route Grade
Not Applicable
:: Weather Conditions
Unbroken sunshine, temps above freezing on the hills above inversion, but very dry air so snow stayed hard except on sunlit aspects in the afternoon.
:: Climbing Conditions
General overview photos of Meall na Teanga from the A82 layby overlooking Loch Lochy between the Letterfinlay and Corriegour Hotels.

Posted them in here as surface conditions probably more appropriate for climbing than steep backcountry ski descents!
:: E-Mail Contact
amackay at winterhighland dot info