you report it! // public reports
Posted by:
Guest at 05.22hrs on Tue 28th Dec 21
:: Snow Cover
Limited Terrain Complete/Open.
:: Surface Conditions (out of 5)
2
:: Weather Conditions
Foggy till 11am, then partial temperature inversion with cloud lower down. Sunny at the summit all day from 12noon. A little breeze at the base, around 18mph at the summit. Temps -2 to -+5oc approx.
:: Snow Conditions & Info
Generally quite icy due to freeze-thaw cycles. Some areas with little cover, other areas with several meters of snow above 950m and huge snow drifts, particularly on the upper M1 race piste, white lady, traverse and upper zig-zag.

Snow to be found lower down by snow cannons

Good snow at learners area, which seems to be growing.

Generally a shame as the upper 3 lifts and possibly the Cas T-Bar/m1 poma could have operated (with help from A few snow cannons and grooming) if the funicular was operational.
:: Riders
Jonathan & Pablo
:: Snow Cover
Mostly Skiable - Some Areas Thin/Narrow
:: Surface Conditions (out of 5)
3
:: Weather Conditions
some snow showers in the morning before it brightened up with some sunny spells for most of the day. The weather closed in with a ballistic wind from the s/sw causing a significant windchill and snow showers mid afternoon
:: Snow Conditions & Info
After the rain overnight everyrhing was really icy and fast. Best run of the day was the Home Road. West Wall Poma opened and the top half of the M2 was good though lower half was poorer. Surprisingly quiet so no queues.
:: Riders
skicadets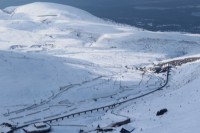 • View Photos •
:: Snow Cover
Most Terrain has Good Cover.
:: Surface Conditions (out of 5)
4
:: Weather Conditions
Windy and Misty at first, then glimpses of sun from around 11: 30am. By 2pm the wind had dropped significantly and the M1 Poma was able to open. By 3pm it was blue skies!
+5oc (estimate) at 650m, freezing level at around 1000m.
:: Snow Conditions & Info
Powder/packed powder at the summit with lots of snow formations along the snow fences. The mid-level runs were quite good - some louse, but heavy spring snow on a packed, hard base. Lower down it was slush, but certainly skiable. Off Piste high up is great, but the heaviness of the snow made offpiste below 900m pretty challenging.

A snow park was open on the Cas, near the top. Apparently one of the pistenbully operators was working on it till 11pm on the Thursday night - credit to him and all the other staff. They certainly put some effort in to snow farm where the could to ensure lifts were in use.
:: Riders
Jonathan Cook
:: E-Mail Contact
technicianjonathan at gmail dot com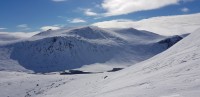 • View Photos •
:: Snow Cover
Excellent Cover
:: Surface Conditions (out of 5)
5
:: Weather Conditions
Bluebird with no wind!
:: Snow Conditions & Info
After radar skiing at Nevis range, today was a breath of fresh air. Perfect visibility and perfect snow. I was going to tour today, but was unable to find a touring buddy and had developed a cold so I opted to tour from the top of the lifts. All the open runs were in decent shape with the ciste and then the WWP following the initially offering of CPT, M1 and CAS T bar a little later. M2 was great, ditto M1 all the traverse runs in grand order, Ciste skiing well, and plenty lines from top of CAS. The top half of the lady was great with the lower half a bit 'ball bearing'. The bowl skiiers right of the M2 was also grand. I headed up to the summit the. Down Ciste Mhearad. Great for the top half, but soft and 'grabby' snow lower down. I stayed clear of the steep pitches as did everyone else. The temps over the comming days likely to wipe out the lower slopes, bit plenty touring to be had!
:: Riders
Nigel
:: E-Mail Contact
nigelmwebber at gmail dot com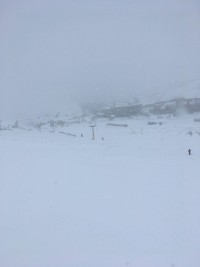 • View Photos •
:: Snow Cover
Excellent Cover
:: Surface Conditions (out of 5)
3
:: Weather Conditions
Heavy snowfall all day with very poor visibility. Windy at times but not too strong. Snow down to Loch Morlich.
:: Snow Conditions & Info
The cover was excellent on all open runs and improved throughout the day with around 30cm falling. Under-ski, the snow was quite slow and wet. In the morning you could get thrown about quite a bit when you skied across hard pisted snow onto areas of soft fresh snow. This wouldn't have been such an issue if you could see where you were going. Fiacaill Traverse onto Jean's Bowl was the best I have ever skied it. Incredible snow cover in the bowl with the bouldery and heathery patch towards the Fiacaill poma filled in by the end of the day. Few were skiing it as you had to know your way, keeping high and traversing to where the old Fiacaill T-bar ran to before dropping down to Jean's bowl. White lady and M1 were good with the best, drier snow higher up. Ciste t-bar came on after lunch and there was lovely powder in the Ciste bowl if you trusted your skiing in the poor visibility. They were working on de-icing and pisting the uptrack for the WWP, but this never came on. Car Park T-bar, Cas t-bar, M1 poma and eventually the Ciste t-bar were open for uplift. Runs open were Cas, M1, White Lady, 105, gunbarrel, zigzags, fiacaill travers, lower slopes and ciste fairway (M2 and over yonder were ready to go but no West Wall Poma).
:: Riders
Gordie Bryce & Torin Moffat
:: E-Mail Contact
g dot bryce at hotmail dot com