Posted by:
Freeheel
at 21.53hrs on Thu 12th Apr 12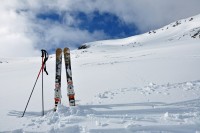 • View Photos •
:: Snow Cover
Mostly Skiable - Some Areas Thin/Narrow
:: Surface Conditions (out of 5)
4
:: Weather Conditions
Good weather window from c11.30am - 12.30, thereafter it snowed basically. Freezing level below summit and appeared to be falling with north wind also freshening slightly. 9c at the bottom and dropping.
:: Snow Conditions & Info
Back Corries fantastic with a foot + of fresh on top of old base and skiing nicely all the way to the Bheart. Cornices were absent and though snow hard just after drop in it quickly sweetened up. This merited 2 runs. Time to have a look further round I though on exiting Chancer but conditions deteriorating but thinking it was a shower I had couple of goes on Summit run on which cover was excellent and snow good. Realising it wasnt going to clear I skied the Goose down with big drifts of snow down to T4 and no rock problems. Snow remained good to top of Alpha and just about made it back to the Gondola with skis on but rapidly thinning last few hundred feet. Top of the mountain has got good cover and even Warrens has caught plenty of snow.
:: Riders
Freeheel
:: E-Mail Contact
gordon dot simpson at btinternet dot com