Posted by:
Skicadets
at 19.29hrs on Sun 12th Mar 17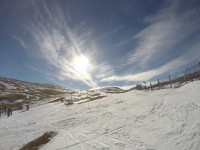 • View Photos •
:: Snow Cover
Limited Terrain Complete/Open.
:: Surface Conditions (out of 5)
3
:: Weather Conditions
Sunny until about 14: 00 when the clag came down and the rain started which put an early finish to the day.
:: Snow Conditions & Info
Snow was getting thinner as the day went on with heavy use and high temperatures. M1 loading area was shot and you had to walk through it or your planks would be wrecked. Ciste and Ptarmigan Bowls had also been patched up at the bottom where they were thin. Best run was either the M1 or the Ciste Fairway. Will try and get more photos uploaded soon.
:: Riders
skicadets
:: E-Mail Contact
ianbloomfield007 at yahoo dot co dot uk
Report Edited Once. Last edited by Skicadets: 2017-03-12 21:03:40