Posted by:
eagles
at 20.40hrs on Thu 26th Apr 18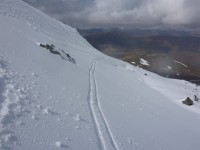 • View Photos •
:: Snow Cover
Mostly Skiable - Some Areas Thin/Narrow
:: Surface Conditions (out of 5)
3
:: Weather Conditions
Blustery Convective heavy April showers all day with snow above 600m and rain on lower slopes. The sun only made a rare appearance and it felt cold on the summit with spindrift blowing in the gusty wind and more like full on winter conditions.
:: Snow Conditions & Info
Late April Freshies all day! The upper mountain still retains a good deep cover of snow in all the natural gullies and the fresh snow was being replenished all day in the snow showers and filling in gaps such as the summit path to the Spring Run which is now complete again, thanks also to ski patrol who shovelled snow over the rockier sections. The Spring Run was superb all day as also was the Main Basin and Happy Valley. Lower down on the Wall the snow was much heavier going and stickier as was Mugs Alley which now has holes appearing and is really now only suitable for access. Plateau Poma and Wall up tracks still holding up well and intact but Plateau Run is now broken at last section.
:: Riders
Ken
:: E-Mail Contact
munro33 at aol dot com