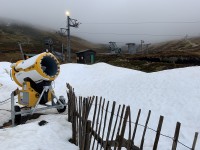 • View Photos •
:: Snow Cover
Broken & Patchy. Very Limited Terrain.
:: Surface Conditions (out of 5)
0
:: Weather Conditions
Showery, dry and bright to the North but distinctly clagged in around the ski area when showers came through.
:: Snow Conditions & Info
Snow factory producing snow on the Plastic Slope Poma area.