touring & backcountry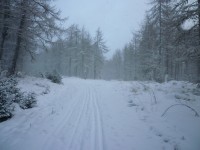 • View Photos •
:: Tour Route(s) or Location Skied/Ridden
Haute Route via Highland Fling, Leids Leap, Deer Track and Classic Start.
:: Weather Conditions
Snow showers. Start of tour it was 0C at the carpark, when I left it was -1.5C
:: Snow Conditions and Distrubtion
Good, about 5cms of soft fresh snow on a hard base, giving ~15cms total. Still thin in sections. Leids leap now skiable downwards with care. I kept left, but there is still grabby gravel on the corner to catch you out.
:: Skiers/Riders
Dave and Timberline
:: E-Mail Contact
d dot horsley at abdn dot ac dot uk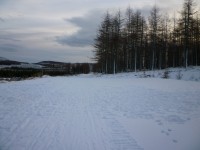 • View Photos •
:: Tour Route(s) or Location Skied/Ridden
Started from the carpark in past the biathlon range, past shortcut, along Normans Way. Tree down, but passable underneath (watch your head). Up herringbone Hill and along the Haute Route to partway down Leids Leap. Was a bit dodgy on the downhill so turned round back to Shortcut and then along Hedder Way to the bottom of Leids leap. Out via Deertrack and Classic Start
:: Weather Conditions
Sunny. Temp was -2C in Kenethmont and +2C at Rhynie, 0C at the Clash carpark when I arrived, about +4.5C when I left in the early afternoon.
:: Snow Conditions and Distrubtion
Started fast and icy, softened and slowed during the day. Most main trails complete, thin in places.
:: Skiers/Riders
Dave H
:: E-Mail Contact
d dot horsley at abdn dot ac dot uk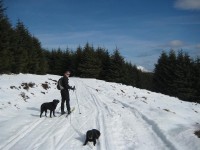 • View Photos •
:: Tour Route(s) or Location Skied/Ridden
Leids Leap - Haute Route - top of herringbone, up and down the glacial meltwater feature, back along haute route and down shortcut back to car park
:: Weather Conditions
plenty of hot sunshine.
freezing level above clash.
nice soft snow in sunlit areas, firmer and icy in places in shade
:: Snow Conditions and Distrubtion
nice soft snow in sunlit areas, firmer and icy in places in shade

a good spring skiing day out

thin near entrace to forest at carpark, otherwise plenty of snow
:: Skiers/Riders
A, G, Max & Zara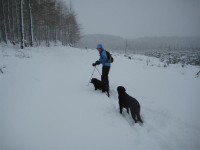 • View Photos •
:: Tour Route(s) or Location Skied/Ridden
Sheepfolds > Herringbone Hill > Haute Route > Leids Leap
:: Weather Conditions
constant snow! freezing level about 500m
:: Snow Conditions and Distrubtion
heavier and sticker=slower lower down in places
fine on haute route
plenty of it = 30-50cm deep
:: Skiers/Riders
telemarker, mrs telemarker, max&zara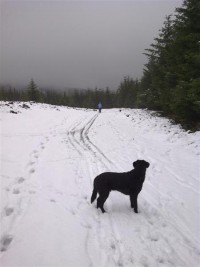 • View Photos •
:: Tour Route(s) or Location Skied/Ridden
Parked by road near bottom of Leids leap,
skiied up leids leap, haute route and up onto Timberline and back

late afternoon ski to walk the dogs and test the new binding-boot combo for higher level tours
:: Weather Conditions
light rain, cloud, +3 degrees C
:: Snow Conditions and Distrubtion
4" fresh on old snow. fresh snow sticky and wet.
care needed on some bits going down to avoid rocks under the snow
:: Skiers/Riders
tele, mrs tele, max&zara