touring & backcountry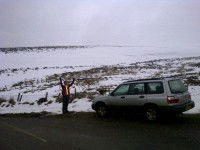 • View Photos •
:: Tour Route(s) or Location Skied/Ridden
The Buck of Cabrach (721m)
Started 7.10pm from layby on B9002 (approx 1km south of junction with A941) at 410m
Straight assault on the Buck, with some traversing higher up.
To summit on ridge. then return down large snowfield on Northern flank
5km route
Back at car by 8.20! Great fun skiing down in as dusk approached. next time would prefer to take fatter skis
:: Weather Conditions
cloud level 550-600m snow showers, freezing level around 500m but lowering
:: Snow Conditions and Distrubtion
mix of large snow field by road, to narrow ribbons of snow on flatter area before main climb. extensive deep snow cover above 500m
:: Skiers/Riders
Telemarker and Jason
:: Tour Route(s) or Location Skied/Ridden
Greendams - Airy Muir - Clachnaben - Edendocher -Badymicks - Mt Battock & return
:: Weather Conditions
Lovely blue sky afternoon, no wind, warm in the sun.
:: Snow Conditions and Distrubtion
Started at 150 metres, land rover track was sketchy until I hit the burn path. Gamekeepers had been using path for access on the snowmobiles so easy skiing up through the trees til bottom of Airy Muir. Snow was nice and grippy all the way up to the old hut at the top. Great touring snow once on the plateau, couple of inches of soft snow on a consolidated base, smooth, easy running. Snow at top of Mt Battock was very icy but only top 25 metres. Descent of Battock (250 metres) was great, lovely top layer allowing for controlled (semi) skiing even on my skinny waxless kit. Fast return over the plateau, some windblow but soft enough to ski over without any problems. Descent of top half of Airy Muir was fine, bottom half only had a narrow-ish line of cover and was icy, so no edges meant a run down the hill instead of skiing. Return route through the trees was very icy, meant my step turn technique was tested to the full. All in all a great day out with full, good skiing cover from about 300 metres - well worth the Scottish tan!
:: Skiers/Riders
Andy
:: E-Mail Contact
triguy100 at hotmail dot com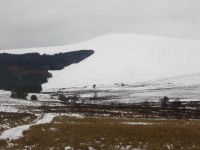 • View Photos •
:: Tour Route(s) or Location Skied/Ridden
Kerloch

Followed the track west of the Burn of Curran and up through the trees to the summit. Deep powder still on the track.
Down the the north side staying close to the fence line and retraced steps back to the road.
:: Weather Conditions
Overcast but light winds
:: Snow Conditions and Distrubtion
Heavy, wet snow which was fine on the steep but made life a little awkward on the swallower angles.
:: Skiers/Riders
Kirk, Scott & Rosie
:: E-Mail Contact
k2_scott at hotmail dot com
Report Edited Once. Last edited by k2scott: 2013-04-01 11:31:57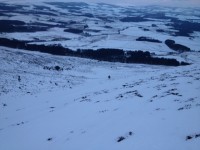 • View Photos •
:: Tour Route(s) or Location Skied/Ridden
Morven. Evening tour.
Skinned up from road level. Snow was wet. East face of lower section of Morven was stripped badly. Probably enough to get down with a bit of clever line picking. Footpath up was used for ascent until gradient levels out between Morven and Roar Hill. Followed the burn up and then onto the shoulder of Morven. As it was after 6 and with zero visibility from 750m I turned tail and headed back down. The red is my descent line. Found a nice 'Burn line' which had held a lot of snow. Was able to ski right the way back down to the forest. From the car park to 750m it took me a little over an hour and a steady pace.
:: Weather Conditions
1 deg C at car park level. No wind. Fairly overcast. Cloud hovering around 700m. Zero vis at 750m. Perfect visibility below this.
:: Snow Conditions and Distrubtion
Snow was wet at car park level. Well compacted. Enough to ski through the field and onto the hill. Probably not now...
Once on the hill, snow was in good condition. Descent was on well compacted snow with a covering of fresh stuff. 500M of superb descent, gave me a real grin ;o)
:: Skiers/Riders
Geoff
:: E-Mail Contact
geoffknight83 at hotmail dot com
Report Edited Once. Last edited by GEOFF_KNIGHT: 2013-04-01 09:21:33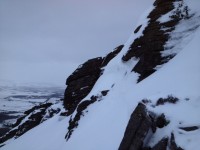 • View Photos •
:: Tour Route(s) or Location Skied/Ridden
Bennachie. Red routes are uphill and bue is my descent. Intended route was East face Mither Tap. Due to wind scouring decided North slopes would fair better. Parked near Kirkton of Oyne. Limited access, basically 1 space at the foot of the hill. Followed the path from Nursery Cott and was lucky to find some tracks from a skiers descent which I followed up making things much easier up to ~350m where the base was nice and firm. Good coverage in that natural bowl so decided a direct run first was a good idea. Once slope eased off I headed back up again and went to the top of Craigshannoch. Some fantastic drifts up there. Managed a short steep section off the granite tor where the drifts were very deep then took direct line to the forest and followed it round all the way back to the path. Skiing was possible right back to the car. Note, tree felling has changed this map a bit with forest cut back to the west side of the Nursery Cott burn.
:: Weather Conditions
At 16: 10pm Overcast but clouds just around summit level on approach. No wind. 2 degC. A snowy shower came in near the first ascent but quickly cleared. Visibility was excellent.
:: Snow Conditions and Distrubtion
Snow at car park level ~150m had been quite deep and compacted down to give maybe 2" of decent cover. From 200m - 350m snow was probably 1 foot deep and fairly compacted. Without existing tracks this would still have been tough, especially where the slope began to ramp up. From 350m there were decent snow patches/fields and compacted well with lovely inch or so of fresh snow. Made for lovely turns on the way down. Below 350m turns were still possible with good speed.
:: Skiers/Riders
Geoff
:: E-Mail Contact
geoffknight83 at hotmail dot com