touring & backcountry
Posted by:
h11lly
at 19.43hrs on Tue 3rd Apr 12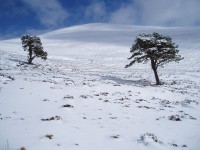 • View Photos •
:: Tour Route(s) or Location Skied/Ridden
Meall a Bhuachaille. Walked about half way up then skinned the rest from Glenmore. Skied down the SW face.
:: Weather Conditions
Sun, snow showers, no wind in the forest but very strong NE at the summit where the mist came and went.
:: Snow Conditions and Distrubtion
Unconsolidated heavy snow until the upper slopes where it was wind scalloped powder drifting in the wind.
Good skiing high up although unfortunately as I was heading down the visibility closed in. Lower down I could have done with wider skis as despite sitting back it was hard not to sink.
Should be better once it consolidates and freezes.

:: Skiers/Riders
Helen
:: E-Mail Contact
h11lly at hotmail dot com