touring & backcountry
Posted by:
Apex177
at 16.05hrs on Mon 30th Jan 17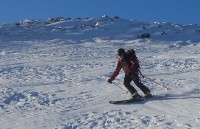 • View Photos •
:: Tour Route(s) or Location Skied/Ridden
Cairngorm Car Park to summit via Cas and top of Ptarmigan tow then down Ciste Mherith
:: Weather Conditions
Dry, sunny, about minus 5, mostly little wind
:: Snow Conditions and Distrubtion
An amazing change form few days prior, even the day before. Enough for a viable skin up and also for ski down. Optional carrying in short stony areas. Some rubble on zig zags corners.
:: Skiers/Riders
Eagle Ski Club Party