touring & backcountry
Posted by:
Turfty
at 14.21hrs on Mon 5th Feb 18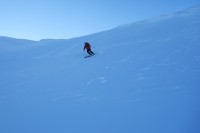 • View Photos •
:: Tour Route(s) or Location Skied/Ridden
The Grey Corries from Corriechoille, via Stob Choire Claurigh, then westwards over the tops to Stob Coire an Laoigh, down to Stob Coire Easain. Great descent down into Coire a' Mhadaidh then back up the coire to cross over Sron an Lochain at about 1000m and descent into Coire an Lochain, then continued down to eventually join the puggy track.
:: Weather Conditions
Perfect
:: Snow Conditions and Distrubtion
Hard neve on the ridges in a few places but otherwise great. The descents into Coire a' Mhadaidh and Coire an Lochain were fantastic, and inch or two of slightly consolidated fresh snow on top of a firm but not icy base.