Posted by:
PeterS
at 00.13hrs on Sun 19th Feb 06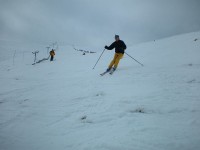 • View Photos •
:: Snow Cover
Mostly Skiable - Some Areas Thin/Narrow
:: Surface Conditions (out of 5)
4
:: Weather Conditions
Cloudy morning clearing to beautiful blue day. Zero wind. Freezing level about 700m
:: Snow Conditions & Info
Heavy showers on Thursday delivered about 30-40 cms of snow with difts up to 1m at the top.

General cover but stones poking through in some areas.

Very good sugary snow conditions with just the hint of a few icy patches by the end of the day.
Expect slight damage to ski bases.
:: Riders
Probably about 15 skiers and 5 snowboarders